Welcome to the website of Virginian Sky
Virginian Sky is a German-bred and US-stationed Trakehner stallion approved by the American Trakehner Association and the German Arabian Sporthorse Association (ZSAA). We invite you to learn more about our wonderful stallion, who will begin his official breeding career in North America with the 2013 breeding season.
Virginian Sky comes from impeccable European performance bloodlines that have produced Olympic competitors in the three major equestrian disciplines of eventing, dressage and show jumping. It is up to you to utilize this truly unique genetic treasure - Virginian Sky is the only Anglo-Trakehner stallion available to breeders in North America at the moment.
Virginian Sky is owned in partnership by the Fontana Syndikat out of Hamburg, Germany, and the international four star event rider Natalie Rooney, who operates Four Star Farm out of Woodland and Napa in California. Please do not hesitate to contact us with any questions you may have.
Virginian Sky is entered in the ATA's Stallion Service Auction which will run in February 2013. Check back here often for regular updates and news!

INVITATION!
Please join us on March 9th 2013 for the official introduction of Virginian Sky to Trakehner breeders and all interested parties on the West Coast. You can expect an afternoon of Trakehner fun, eduction and friendship. We begin at 1PM and will showcase Virginian Sky under saddle in dressage and over jumps. He will also present his firstborn filly from 2012, Of Wind n'Sky. Afterwards, a number of Four Star Farm sales horses will be presented under saddle and in hand - all accompanied by expert bloodline commentary. This is a great way to learn about the different traits of Trakehner genetics, and also of how they work with other warmblood lines as several of our sales horses carry outside bloodlines as well. In the afternoon, you will be treated to a special multimedia seminar concerning Virginian Sky's unique Shagya Arabian background, and the role of this special breed in the Trakehner population in general. Admission is free and food and drinks will be provided by your hosts. Contact us for details!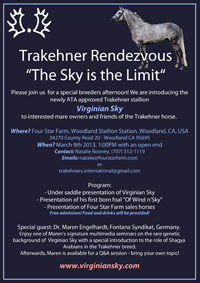 The Sky is the limit! Future Package Deal - we are pleased to offer you a very unique and novel opportunity when you decide to breed to Virginian Sky. Take advantage of our Future Package Deal! You breed to Virginian Sky, and we will actively help you to sell your foal. However, if you choose to raise and develop your own future riding horse, or you want to take advantage of a bigger and more profitable market at a later stage in your foal's life, you can bring us your 3yr old Virginian Sky offspring and get a reduced rate for training from the international four star event rider Natalie Rooney. Natalie has an outstanding track record of starting young Trakehner horses, and her success as both a gifted rider as well as a well-connected horse broker give you a headstart with your Virginian Sky offspring. Natalie also has an obvious vested interest in seeing all of Virginian Sky's offspring become hugely successful competition horses! Please contact us for terms and conditions of this unique opportunity. Starting with "Sky foals" born 2013 and after!
---