Pedigree Information
Virginian Sky boasts a very special pedigree - it is uniquely "Trakehner" because this mix of blood horse types was what made the Trakehner the leading sport horse in the world prior to WWII. It is also unique because this pedigree combines international performance lines that were proven up to Olympic level in eventing and dressage. And it is unique because currently, North American sport horse breeders have a very limited choice when looking for refinement blood and the much needed addition of high quality TB and Arab in doses when it comes to breeding international event horses.

Rheingold xx by Faberger II xx - Supreme Court xx

Sinful xx by Grey Sovereign xx - Precipitation xx

Bajar ShA by Suakim ShA - Sultan ShA

Bergkette by Gabriel - Totilas

Pentathlon xx by Ennis xx - Palestine xx

Lady Arc xx by Acropolis xx - Match Past xx

Poaching xx by Owen Tudor xx - Big Game x

Vimari xx by Vimy xx - Hyperion xx
TB-2 Family (branch 2-s, Burton's Barb Mare)

Breeder: Heinz-Hermann Schröder, Südstedt, Germany

The dam
Virginian Girl xx raced for 7 seasons and was a Champion steeplechaser at her time. She produced a number of foals for the Trakehner breed in Germany, among them Virginian Sky's full brother Virginian Snow, a young, successful eventer in Germany. The tail family of Virginian Sky also stands for the outstanding major sires Norther Dancer xx, Secretariat xx, Charlottown xx, Ballymoss xx, Busted xx, Hurry On xx, Precipitation xx, and Sir Gaylord xx. Trakehner stallions from this family include Amor II and Astronaut. Amor II is known in North America as the sire of the CCI** Bromont winner and ATA approved eventing sire Amethyst. The TB-2 family also produced Xucar xx (jumper sire in the Trakehner breed, sire of Protector, appr.), the FEI show jumpers Belle Doudou, Lolipop, Tinapaei xx, and Caratella as well as Hunter/Jumper Un Beerenauslese (appr., USA), and the approved Westfalian For Romadour (Bundeschampionat Dressage 2011). The 2-s branch stands for Alleged xx, an influential sire found in the Trakehner-approved stallions Allegrador xx and Fly Society xx. Finally, this is the same tail family as newly ATA approved stallion Sea Lion xx, a four star eventer in the US.
Dam sire Limbo xx won some of Germany's most prestigious youngster races and was third in the German Derby in 1978. His sire Pentathlon xx was an influential race horse and sire in Europe and several of his sons, grandsons and granddaughters found their way into the German warmblood breeds, mostly because of their athletic abilities and their good work ethic. The Angloarabian Don Pedro AA for example, a son of Pentathlon xx, show jumped at advanced levels and produced upper level eventers and show jumpers himself. Pentathlon xx is also the sire of the Trakehner-approved Frescobaldi xx, sire of upper level dressage horses.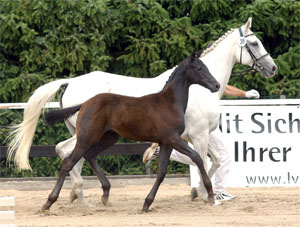 Virginian Girl xx with Virginian Sky as a foal in 2003


The sire
Best Before Midnight started his stallion career in the Oldenburg breed. He was approved in Vechta after passing an exceptional 30 day test. He was first developed as a show jumper, which made perfect sense given his incredible jumping ability and his pedigree. He qualified for the Bundeschampionat of the German Show Jumper and was subsequently presented to the German Trakehner Verband for approval as a 5yr old in Leverkusen. Here, he was also shown under saddle in a jumping demonstration, and won many fans and the approval vote form the Verband. Soon after, a career switch was in the making. The breeder's daughter, Clara Baunack, is a dressage rider and a horse was needed for the upper levels. BBM, as he is affectionately called in Germany, made that transition easily and today, can look at a number of wins and placings in S level dressage, up to FEI classes at PSG and Inter I level. He helped Clara win State Dressage Champion titles as a Young Rider and the two are continuing their successful path in the adult divisions now. BBM is a horse with versatile talent, and he reproduces that very consistently in his offspring. His German approved son Invincible Sir (dam by Madron's Mohagony ox) is also a S level competitor in dressage, Virginian Sky is an eventer, although he too has incredible talent in dressage (see video gallery). Several other BBM offspring compete successfully in the young show jumper classes in Germany.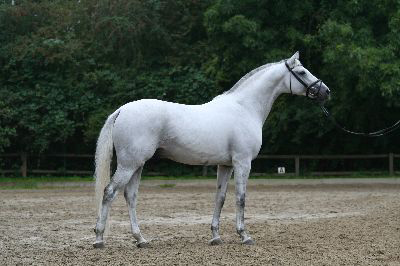 Best before Midnight, Photo by E. Schwarting
BBM's sire Sir Shostakovich xx founded a very strong, and highly performance proven stallion line in the Trakehner breed, after he also stood at stud for the Holsteiner Verband. Among Sir Shostakovich's many outstanding offspring are the Olympic eventer Boettcher's Longchamps, the Rolex Kentucky placed Lester Piggott and the approved premium stallion Chateauneuf (performance record at S level show jumping and M level dressage), the approved international show jumper Donaumonarch, the approved S level show jumper Couleur-Fuerst, as well as a staggering collection of second and third generation show jumpers at international 1.50 and 1.60m levels. Sir Shostakovich xx embodied the perfect, hard sport horse type that has made the Irish TB one of the best sources of performance blood in the world. Although not alive anymore, this TB will always be remembered for the sheer unlimited scope and power his offspring had over jumps. The line of BBM just added a chapter in dressage.
BBM's dam sire Bajar ShA was the most successful Arabian stallion in the Trakehner (and Holsteiner) breed after WWII. Although not highly popular as a sire at the time, and astonishing percentage of his offspring became international show jumpers (e.g. Bachus) ot eventers (e.g. White Girl TSF) - again up to Olympic level. Specifically in the Trakehner breed, the majority of Bajar-offspring ended up in competition, and his daughters are among the best and most sought after mares of our time. It is especially in combination with BBM's direct mare line (Bergfriede) that the Bajar ShA-blood was most successful, e.g. in form of the international eventer Boo Bandit. This family also produced the approved S level show jumper Braunsberg.
In the falling dam line you will find the names Gabriel and Totilas - both were absolute foundation sires of the Trakehner beed after WWII. Gabriel, a very tall, strong, rather coarse stallion was not very popular at his time, but it turned out that he was one of the best sires the breed ever had - in producing highly valuable daughters and sons of the calibers of Boris (dam sire of the great Abdullah *Pg*E*), or the spectacular dressage sire Halali (he started the international dressage lines of E.H. Marduc and E.H. Hyllos - E.H. Solero!). Interestingly, it was especially in combination with Totilas daughters that Gabriel produced his best offspring (e.g. dam sire of Flaneur).
We can only conclude that this is one of the most well-rounded, proven and versatile pedigrees available to the breeder today. We stated that this pedigree contains the bloodlines of Olympic level performance horses in all three disciplines - and it does. The Gold medalist Abdullah *Pg*E*, the Bronze medalist Peron TSF (dressage) and Peter Thomsen's White Girl TSF (eventing) all represented their nations at the Olympics - and share a genetic background with the pedigree outlined above.
The consolidation effect of Virginian Sky's ancestry is very strong, meaning you will most likely see very strong points of Virginian Sky in his foals. His conformation and movement often remind of BBM and Bajar ShA and with that, the interested breeder gains a good look at the future foal, way before it is produced. We recommend Virginian Sky as a refinement sire that will be very true to his type and athletic background. Expect well-developed saddle positions and especially powerful haunches form his foals, paired with balanced movement, excellent jump and a good mind to work with. A good percentage of his foals will be grey.

Contact us for more info